.fusion-fullwidth-1 {
padding-left: px !important;
padding-right: px !important;
}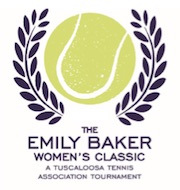 2021 Emily Baker Women's Classic:
February 23rd – 26th
The Emily Baker Women's Classic tennis tournament is an annual Tuscaloosa Tennis Association event. The proceeds of this event go to the Emily Baker Scholarship and Youth Tennis Fund. This fund is used to teach 3rd, 4th, and 5th graders tennis and award scholarships to youth who want to advance their tennis careers.
Emily has been a driving force in growing the sport of tennis in Tuscaloosa. This is TTA's way to honor her and continue her dream of building and growing tennis in Tuscaloosa.
2021 Player Registration Information
Adults: $50 per player
Students: $25 per player
Levels of play: Novice (playing less than 6 months), 2.5, 3.0, 3.5, 4.0
Age Divisions: 18+, 50+, 65+
The 50+ and 65+ age divisions will be playing during the day only on February 23rd and 24th (8:30 a.m. – 2:30 p.m.)
The 18+ Division will play as follows:
Daytime:
Thursday, Feb 25th – Novice, 2.5, and 3.0 (8:30 a.m. – 2:30 p.m.)
Friday, Feb 26th – 3.5 and 4.0  (8:30 a.m. – 2:30 p.m.)
Night Division – All levels will play Thursday, Feb 25th and Friday, Feb 26th from 6:00 p.m.-10:00 p.m.
**Make sure to specify age level, times, and USTA level on the registration form
Patron Levels:
Platinum ($2,000+) – Includes 4 teams, Name/Logo on banners, recognition on TTA website
Gold ($1,000+) – Includes 3 teams, Name/Logo on banners, recognition on TTA website
Silver ($500+) – Includes 2 teams, Name/Logo on banners, recognition on TTA website
Bronze ($250+) – Includes 1 teams, Name/Logo on banners, recognition on TTA website
Friends of Emily ($100+) 
Pay not to Play ($50)